Blog Series - Empathy and Project Heart: What's the Connection?
June 25, 2020
If you're like us, the last 90 days of 2020 have really provided everyone with some time to reflect and concentrate on what is important. We've had to learn how to pivot, be adaptable and flexible and truly learn what the word "balance" means. The global pandemic has forced all of us to change our perspective on how we teach kids, how our kids learn and how important it is to shape and equip the next generation of leaders and change-makers, encouraging and supporting these students to be creators of positive and systemic change in the world around them.
At OtterCares, since our founding, we have believed that students are brave and powerful individuals that need resources, guidance and support to create impact in their communities and our world. That is why we are so passionate about teaching entrepreneurship and philanthropy to K-12 students. We believe that when you unleash the maker, doer and giver inside students, their opportunity for change - be it societal or economical – is limitless.
One of the tools we created to help ignite the maker, doer and giver in students is Project Heart. When we first launched the program, we believed that Project Heart had the power to inspire students and cultivate the next generation of leaders who were empathetic and passionate about being life-long givers. Fast-forward five years, the societal unrest we're all experiencing has made us realize that the true power of Project Heart lies in the intentional facilitation of the development of not only a philanthropic spirit but of being and thinking empathetically.
Empathy is what drives all of us to want to create positive impact. Empathy is what makes our hearts ache when those around us experience pain, injustice and hardships. Empathy is what encourages us to stop and listen so that we may act in a way that promotes true change.
Project Heart, at its core, is about developing and cultivating empathy in young people.
With a lot of our day-to-day routines shifting to virtual experiences, many of us have been looking for ways to reduce screen time. That's why we're jumping into some of our favorite books. Last year, we read Dr. Michele Borba's book Unselfie: Why Empathetic Kids Succeed in Our All-About- Me World. The framework that Dr. Borba shares in this page-turner aligns beautifully with our belief that empathy is life-long practice and that it is something that requires intentional reinforcement in school, home and in our community. In fact, since we came across Unselfie, we have discovered more ways to enhance how we develop our Project Heart program and ensure that we develop tools, resources and lessons that reinforce the importance of teaching students how to be empathetic.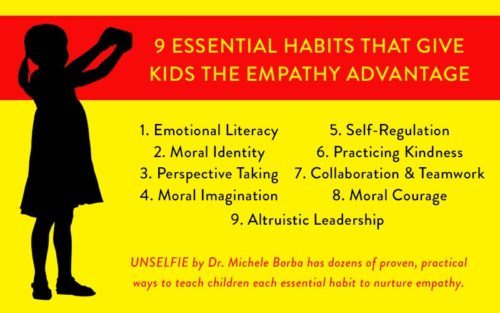 Dr. Borba's book outlines nine essential habits of empathy that parents, educators and students can practice to develop and grow an empathetic mindset:
Emotional literacy
Moral identity
Perspective taking
Moral imagination
Self-regulation
Practicing kindness
Collaboration and teamwork
Moral courage
Altruistic leadership
Despite our passion for empathy, we didn't know about these habits and how important they are to learning and acting with empathy. After reading Dr. Borba's book (and then re-reading it because it is awesome) our team immediately began thinking of ways to share the connection between these habits and our work.
And that is what brings you here today. Over the next 10 weeks, we are going dig into Dr. Borba's framework and discuss what these habits mean to us, how they connect to Project Heart and provide some fun tips and tools on how you can put these habits into action. Each week, we'll have a discussion question posted on our social media pages (make sure you like and follow us on Facebook and Twitter!) so that we can share our experiences and ideas for how to bring these habits to life.
So let's get this party started! Make sure you subscribe to our emails, follow us on Twitter and like us on Facebook so you can join in on the conversation.